The Reverend J.W. Watson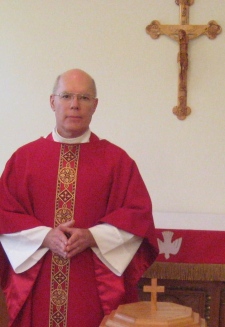 Pastor Watson was born Dec. 30, 1954 in Minneapolis, MN to William and Opal Watson. He was baptized into the Holy Christian Church on March 20, 1955 at Trinity First Lutheran Church. Pastor Watson graduated from Snider High School, Ft. Wayne, IN in 1973, Wichita State University in 1978, and Washburn University School of Law in 1982.
Prior to entering the seminary, Pastor Watson practiced law for eight years. He was both a U.S. Navy trial attorney in the J.A.G. Corps, and an Assistant Attorney General for the State of Kansas.
Pastor Watson graduated from Concordia Theological Seminary in 1995 after having served his vicarage at St. Peter's Lutheran Church, Waterford, WI under the exellent tutelage of Pastor F.A. Bischoff.
Pastor Watson has served calls to Messiah & Redeemer Lutheran Churches, Redfield & Doland, South Dakota, and Redeemer Lutheran Church, Lawrence, KS before accepting the call to be pastor at Augsburg Lutheran Church in February 2004.
Pastor Watson was married to Susan in 1988 and has one son, Tim.
Contact Information
Home Address
2925 Kensington Rd.
Lawrence, KS 66046
Phone
(913) 403-6194
E-mail: